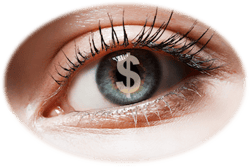 When it comes to LASIK eye surgery cost, the procedures remain unregulated on the open market. The Food and Drug Administration (FDA) is empowered to approve the sale of lasers deemed "reasonably safe and effective" for LASIK procedures in the U.S. But there is no government oversight of how doctors manage or market LASIK practices – or how much they charge for LASIK vision correction surgery.
If you are considering LASIK surgery, you'll find that the average cost can range from approximately $1,900 per eye for non-customized LASIK to $2,200 per eye for customized wavefront-guided procedures using the most sophisticated techniques. But it is helpful to be aware that there are a number of variables that can affect your costs:
Required pre-operative testing
Specialized equipment for eye tracking, corneal measurement and topography, pupil size, and tear film analysis
Surgical equipment, such as traditional blade LASIK or laser
Whether the surgeon owns or leases the laser technology
Is LASIK right for you?
It's likely that you have heard about incredibly low prices for LASIK at some centers, such as $499 per eye. That may sound like a great deal, but those "low prices" may be a ruse to lure you into the office where, if you carefully examine the offer, you'll find the "fine print." For example:
You may find that your eye prescription is "too strong" (a correction greater than 1.25 diopters) so you are not considered a suitable candidate for super low pricing.

The technology used is out-of-date and not as precise or effective as most current technology.

Some costs typically included in overall LASIK fees, such as pre-op services and follow-up visits, are not included in low-price offers.
It's important to compare "apples-to-apples" pricing when you are considering LASIK centers. Ask questions to determine that the surgeon is trained and experienced in using the most advanced technologies, has plenty of experience and satisfied patients, and is transparent and honest about all costs involved. Quality surgeons like Dr. Kenneth Lindahl at the Rochester Eye and Laser Center will only approve LASIK procedures after a thorough examination and will openly discuss the advantages and potential risks of LASIK.
The Rochester Eye & Laser Center also offers Special 0% Financing that starts as low as $183 per month depending upon the procedure.
Saving money is a good thing, but your vision and LASIK results are not something to risk for a "low price." So while it may be tempting, don't let a so-called "deal" be the determining factor in your LASIK surgeon choice.
Rochester Eye & Laser Center offers a FREE LASIK Evaluation in our east-end Rochester office. Contact us today at (585) 232-2560 to schedule your no-cost, no-obligation LASIK exam, or visit our website rochestereyecenter.com to learn more about this exciting vision correction procedure. With better vision, you'll see more, play more, and experience more!
Book your LASIK Consultation before the end of November and get $600 off.
Want to learn more about LASIK? Come to our next free LASIK Seminar.