Complete Eye Care
FULL DIAGNOSTIC OPHTHALMOLOGY SERVICES
We are Ophthalmologists, Optometrists, and Opticians,
all in one East End office.
WORLD CLASS VISION OUTCOMES
Advanced Technology & Exclusive Styles.
Experienced Physicians. Registered Nurses. Highly Trained Technical Staff.
See Clearly Better.
Attend an Educational Seminar
Free LASIK Virtual Seminar
Thursday, December 7th from 5:00 - 6:00PM
Meet Dr. Ken Lindahl and his LASIK Team

Learn how you can live without glasses or contacts

Get all your questions answered about LASIK surgery & the newest technology

WIN A CHANCE FOR FREE LASIK!

Register and attend to automatically be put into the free LASIK drawing! Drawing December 7, 2023.
Free Cataract Seminar
**new date**
January 12, 2024
11:30am - 1:00pm
Are you considering advanced technology for your cataract surgery? We're here to help you on your journey to clearly better vision. Join us for lunch, great cataract information, and a Q&A session. Get all your questions answered!
SEMINAR AGENDA
Meet and have lunch with our Cataract Team

Learn how you may be able to live without glasses after surgery if you want to

Get all your questions answered about cataract surgery & the newest technology in surgery techniques, lenses, and costs.

Have a guest join you and discover all your cataract options.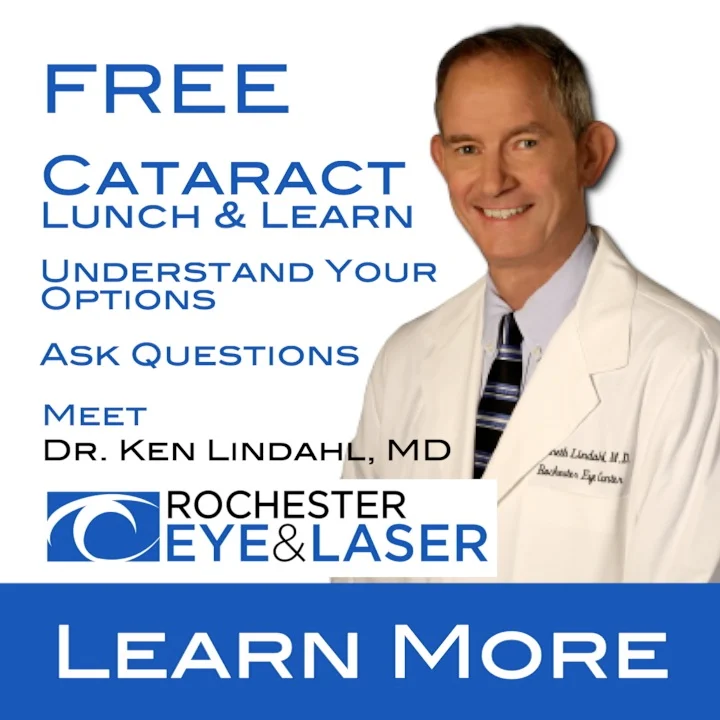 Their staff is top-notch in every way - everyone I have met gives me the impression that they LOVE their jobs. That's quite a testament! They foster a warm and supportive environment - starting with the greeting by the front desk staff. I love Dr. Culliton, and recently had cataract surgery with Dr. Lindahl. Great place to go for eye care!

I receive exceptional service, and professional care every time I have an appointment. I highly recommend Dr. Lindhal and his staff to anyone looking for quality eye care!

Had my LASIK procedure done, it went very well! Staff was very friendly and helpful, from the receptionist to the doctors!
Location is perfect, service is excellent and the staff is warm and welcoming!

Best vision doctors I've ever seen (haha). Taking care to check everything. We've almost got me to 20/20, and it really feels like a partnership. Very friendly while being professional, knowledgable, empathetic, the whole package. Been going there for years. And if you meet Kantrece, she's the best.
Meet
Doctor Ken Lindahl
With more than 25 years' experience since his formal training, Dr. Lindahl has dedicated his professional life to the most advanced technology Cataract and LASIK surgery to ensure the best possible outcomes for his patients.
Dr. Kenneth Lindahl was born and raised in Irondequoit, a Rochester suburb, and attended the University of Rochester (U of R) School of Medicine trained in internal medicine.
Advanced Eye Care.
One Location.
Clearly Better.
Located in Rochester's East End, just off East Avenue.
Ample onsite FREE PARKING at the main entrance.
To contact our office, call 585-232-2560.
For appointments ext. 0