Cataract Signs & Symptoms
Do you have Cataracts?
Cataracts occur when the proteins in the lens start to become cloudy and clumpy, which happens naturally with age. While some people start developing cataracts in their 40s, if you are over 55 years old, it is almost guaranteed that cataracts are developing in your lenses. The gradual clouding of the lens over time will impact your eyesight. Because it's a gradual decline, you may not even notice at first.
What are Cataracts
Correcting Astigmatism & Presbyopia
PanOptix Lens
Correcting Astigmatism & Presbyopia

Cataract Signs & Symptoms
As cataracts progress, symptoms may become more noticeable, and the glasses or contacts you rely on for better vision just don't seem to help. Sharp images may become blurred, and night vision is difficult. You may experience:
Blurred or cloudy vision
Faded or dull colors
Glare or halos around lamps, headlights or streetlights
Sunlight or fluorescent lights may appear too bright
Poor night vision
Double or multiple vision in one eye
Frequent prescription changes for glasses or contacts that don't make much of a difference in your vision
Cataracts can impact the ability to perform simple and basic tasks, including driving, seeing road signs, and exercising.
These symptoms may also indicate other eye problems. If you have any of them, make an appointment for a complete eye examination.
Relieve Cataract Symptoms
See What You're Missing!
Active and vibrant seniors who look forward to many more years of a productive life are often frustrated by the poor vision they start to experience as cataracts worsen. Fortunately, cataracts can be treated with advanced, painless, and rapid surgical methods with a short recovery period, and the basic surgery is covered by Medicare and other private insurers.
Dr. Kenneth Lindahl, founder and chief surgeon at Rochester Eye & Laser Center, is experienced and knowledgeable about cataract treatments. Consult with us today to learn more about your options, and end frustrating cataract symptoms for good.
See what you're missing! With the advanced bladeless cataract treatments and intraocular multifocal lens implants available today, you may experience the best vision of your life after surgery.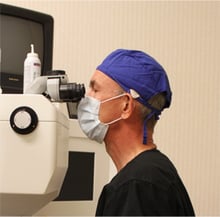 To contact our office, call 585-232-2560.
For Cataract appointments ext. 2