Bladeless Cataract Technology
"After my surgery, I now have 20/20 vision in both eyes. I have never had vision better than 20/50 with corrective glasses or contacts. Now I read, watch TV, drive, play golf, and just enjoy the trees, grass, clouds, and sun like never before.

-Robert B.
Better Results with Laser Cataract Surgery
Bladeless Cataract Laser surgery offers many benefits over traditional surgery. The procedure is not only faster but also more controlled and precise. Eye measurements taken prior to surgery assist Dr. Lindahl in treating the unique characteristics of your eyes for a completely customized treatment that gives you outstanding vision results.
With our LenSx® femtosecond laser system, Dr. Lindahl has the advantage of having real-time video imaging and 3-dimensional visualization during the procedure. Such precision avoids any possibility of human error. Additionally, with the less-invasive laser technique, your recovery and healing may be faster.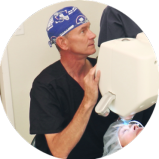 LenSx® Femtosecond Laser System
Traditional cataract surgery has been performed for years by making a micro-incision at or near the cornea and gently removing the cloudy lens using high-energy sound waves. While this method is still quite effective, Rochester Eye & Laser Center is proud to offer another method -- the most advanced technology for cataract surgery using lasers - Bladeless Cataract Laser Surgery.
Bladeless Cataract Laser Surgery (also called bladeless cataract surgery) incorporates the use of the revolutionary LenSx® femtosecond laser system. This laser makes computer-controlled corneal incisions and then gently breaks up the cloudy cataractous lens, based on a detailed real-time 3-dimensional image of the eye.
The LenSx® option allows Dr. Lindahl to accomplish even greater vision outcomes and astigmatism control due to the precision and customization that comes with computerized treatment.
The placement of the new Intraocular Lens (IOL) remains the same as in traditional cataract surgery. You still have the option to choose either standard IOLs or advanced multifocal, accommodating, or toric lenses, depending on your vision goals and lifestyle. We will offer knowledgeable consultation to you regarding the best lens choice for your needs.
To contact our office, call 585-232-2560.
For Cataract appointments ext. 0