According to the Census Bureau, approximately 112 million Americans were presbyopic in 2006, with an average 3 million new cases diagnosed each year.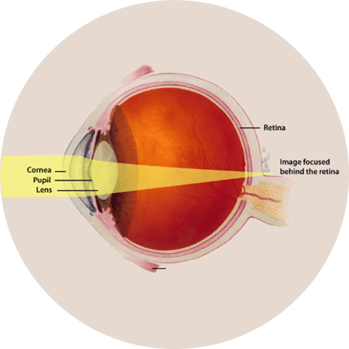 Presbyopia or age-related farsightedness is the gradual loss of your eye's ability to focus on objects, up close. The earliest symptoms of Presbyopia usually become evident in your early to mid-40s. Your eyes' lenses naturally harden over time. As a result, you may notice yourself holding your cell phone at arms-length to read text messages, or holding restaurant menus farther away to read them clearly.
Presbyopia Treatment
Although Presbyopia can be self-diagnosed and easily corrected with reading glasses, any noticeable change in your vision warrants the need for a full eye examination. Your ophthalmologist will run a series of tests, then recommend treatment options based on your specific test results. Traditional treatment options require the use of an external lens, such as reading glasses or contact lenses.
With the recent advances in technology, you can significantly reduce or eliminate your dependence on reading glasses and contact lenses altogether. During a 10 minute outpatient procedure at our office, presbyopia treatment is customized to your individual eyes, using a combination of laser vision correction and the KAMRA corneal inlay technology. You are then able to resume normal activity, free of glasses, as soon as the next day.
On the rise in the US, with more than 3 million cases diagnosed each year, Presbyopia can cause significant emotional stress. Although it is a completely normal change in your eyes over time, it is also an unavoidable and undeniable sign of aging.