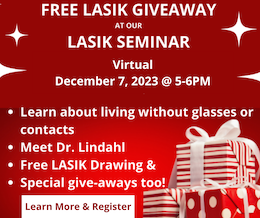 December 7th - from 5:00 - 6:00 PM
Register Now for this EVENT! ↓→
---
Treat yourself to clearly better vision!
Learn about living without glasses or contacts.
SEMINAR AGENDA
Meet Dr. Ken Lindahl and his LASIK Team and ask all your questions

See how you can live without glasses or contacts
Learn about LASIK surgery & the newest technology
WIN A CHANCE FOR FREE LASIK! Drawing during this event*
Link for virtual seminar will be mailed to you once you have registered.
* All attendees of LASIK Seminars from September - December 2023 are automatically entered in the this drawing.
---
Hear our patients talk about their experiences...
↓
Rochester's Advanced Laser Eyecare Specialist