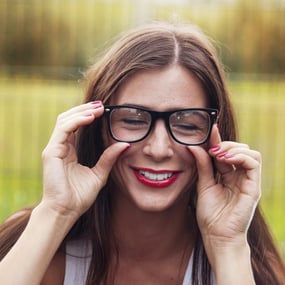 If you've worn glasses or contacts for the majority of your life, chances are you're aware of LASIK Laser Vision Correction. If you're like me, you've imagined the convenience of having 20/20 vision, without reaching for your glasses the moment you open your eyes in the morning, (or worse, remembering you left your contacts in), or choosing any new sunglasses you want without an Rx!
So what's stopping you?
I asked this question of some friends, over dinner. Their overwhelming response? Cost. They'd love to have the procedure! The problem is, LASIK is rarely covered by insurance, which means it's a substantial, out-of-pocket expense. The money for LASIK just isn't in their budgets.
Its almost open enrollment season, pay for LASIK with pre-tax dollars
Does your company's benefit package include the option to add a Flexible Spending Account (FSA) or Health Savings Account (HSA)? These benefits allow you to deduct pre-tax dollars from your paycheck and use that money to pay for elective medical procedures.
..like oh-say LASIK.
These plans can be confusing. Be sure you educate yourself about the details and deadlines, specific to your selection, before signing up. It is also wise to determine if you are a good LASIK candidate ahead of time.
But if an FSA isn't an option…
If your work company doesn't offer an FSA, you still have options. CareCredit, a healthcare finance network, offers no-interest payment plans for up to 24 months. Extended payment plans with lower monthly payments for up to 60 months, are also a great solution for patients who want more time.
You Know You Want LASIK ASAP
Make your appointment for a free LASIK Consultation, before Open Enrollment ends! Some FSAs allow you to use the entire year's allotted dollar amount, right away. At the Rochester Eye & Laser Center, we will help you navigate your FSA and HSA options. You can also apply for CareCredit in our office or online by visiting www.carecredit.com.
Hurry, Open Enrollment Starts Soon!
Do you want to spend another year behind lenses? Schedule your free LASIK Consultation before you are locked-in to your current selection, for another full year. Our goal is to help you see clearly better (especially in your new shades next summer).